Dance Class
Our dance program begins in January and finishes up in March every year. Every Tuesday 6:00-7:00 p.m. from January up until our BIG recital, your child will participate in dance practice at our Shoreview location. Each child is paired with a volunteer staff member, who will work 1:1 with your child to learn their dance numbers. Each child partakes in a few dance numbers and will be provided with costumes and props for the recital! The recital will take place at a predetermined location that has access to a stage, and Kids Abilities will put on a show for family and friends that everyone will remember!
Dance can be a powerful tool for the development of a child. Dance can help children to mature physically, emotionally, socially, and cognitively.  And most of all … Dance is really fun!!
Kids Abilities is continuing to provide clients within the community and clinic  a one of a kid opportunity to participate in an adaptive T-Ball league! Each child will have a 'helper' provided by their family guide them through the steps of the game, and have an opportunity to not only hit the ball, run the bases, but also play in-field positions! Each player will receive a T-Ball shirt and a participation medal every season.
Our T-ball league continues to help families connect and communicate with others that have similar backgrounds and experiences with their children. If you're interested in learning more, please reach out today!
Registration for 2023 is now closed.
T-ball games are held on Tuesday nights at Yost Park in White Bear Lake.
Game times are 6:00pm (ages 3-6) 7:00pm (ages 7+)
Contact KidsAbilities@kidsabilities.com to register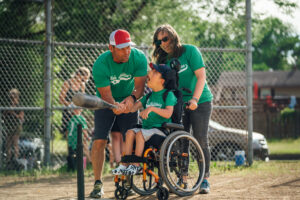 Freezing for a reason! Every year, Kids Abilities plunges into a frozen White Bear Lake and raises funds for the Special Olympics! We love supporting an amazing cause, and joining together with staff and families here at Kids Abilities! Our jump's typically take place in January sometime! We'd love for you to show your support or join our team! Please contact us by email if you'd like to join in on the fun!
Contact KidsAbilities@kidsabilities.com to register